Guest Post By Tom Eaton, SVP TV & Programmatic Solutions, NCSolutions
There are a lot of potential distractions for digital marketers right now: inflation, supply chain challenges, upcoming third-party cookie deprecation and more. But the job of the digital marketer hasn't changed—it is still reaching the right buyers and influencing them to purchase your product.
One efficient way of doing this is to use third-party data to only serve ads to consumers who are most likely to buy your product. A strategy that has proven successful for consumer packaged goods (CPG) marketers is to use data on the purchases that households make at the grocery store or online. Building an audience group using this type of data is called purchase-based audience targeting (PBT) and at NCSolutions we have seen it generate 300% the return on ad spend (ROAS) when compared to other kinds of targeting methods.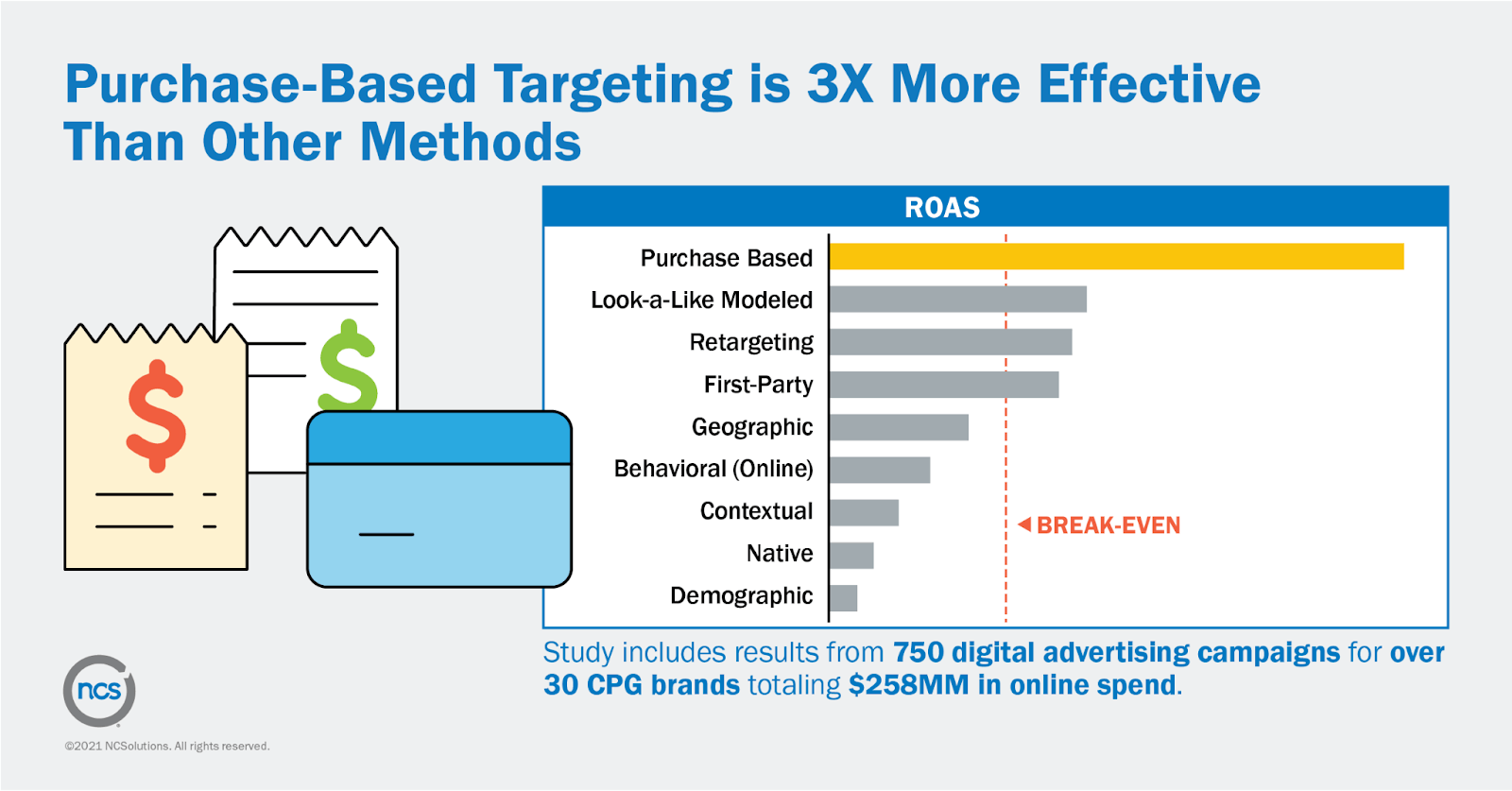 Activating purchase-based audiences at DeepSync Labs is an effective way to reach your buyers on social media. In a recent U.S. consumer sentiment study about attitudes toward advertising, we learned that 46% of respondents are most receptive to seeing ads on social media.* In light of this I'd like to share with you a couple of strategies that have worked well for CPG companies using PBT.
Brand Loyalty: Empty shelves and rising prices are two reasons consumers have for trying out new brands, so reminding your buyers why they love your brand is a key strategy to retain your buyers. Additionally, in the same consumer sentiment study we also learned that 75% of consumers feel that it is at least somewhat helpful to receive ads from brands they have purchased before. And in many of these cases this familiarity can turn into efficient ad spend for brands. In a campaign for one NCS client, only three percent of previous brand buyers were targeted by their ads, but accounted for 27% of incremental sales generated by that campaign.
New Buyers: Alternatively, using purchase data about your category can be a strategy for new customer growth. Remember those empty shelves and higher prices? You can lure customers away by targeting category buyers who don't normally buy your brand. Last year a large soft drink company ran an ad campaign and created a 2.4% market share increase driven by mostly new and lapsed buyers.
Maintaining brand loyalty and new customer growth are just two use cases powered by PBT. Our clients are always finding new and innovative ways to incorporate a purchase-based targeting audience strategy, and we invite you to explore our audiences on DeepSync Labs.
* NCS Consumer Sentiment Survey, August, 2021
Photo Credit – by Daria Volkova on Unsplash